Which Swiss-Made NOVE are you?
Traditionally, most watch styles serve a certain purpose, a dress watch for a fancy event or a diving watch for diving. This concept seems to be old news as people are no longer constricted by the idea of how or where a watch should be worn.
We are sure to have a watch the suits your lifestyle!…personally, I have one from each collection that I swap round depending on the occasion or even the jeans I'm wearing!
The Streamliner, lets start here. I think it's the perfect blend of casual and dress I find myself wearing the tan strap Streamliner with a pair of jeans and a white t-shirt, when I need to suit up, I prefer the Black strap Streamliner as the red from bi-color strap gives it that James Bond touch.
Let's talk sports & exercise. The Streamliner is a dark horse in this area. It may not seem like it but with the 150 Meters Water Resistance and its slim profile and light weight case body, I barely feel it on my wrist and is actually my personal fav for exercising whether I'm doing my morning YOGA or sweaty HITT workout its always a great companion.
So, this watch is an everyday carry, it's for those who get up and go. For those who went to the gym at 7, beach at 12, casual lunch with friends at 2 and have a tuxedo party at 9. No matter what occasion or event you have going on the Streamliner is always ready.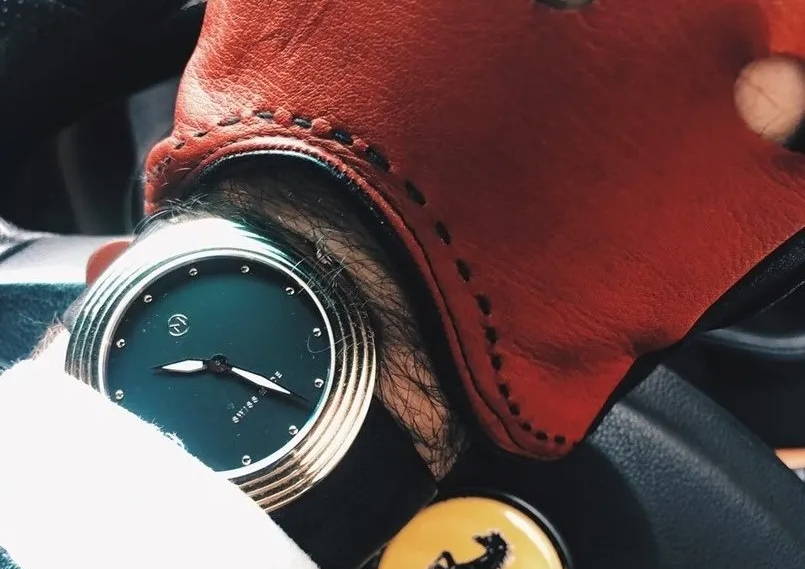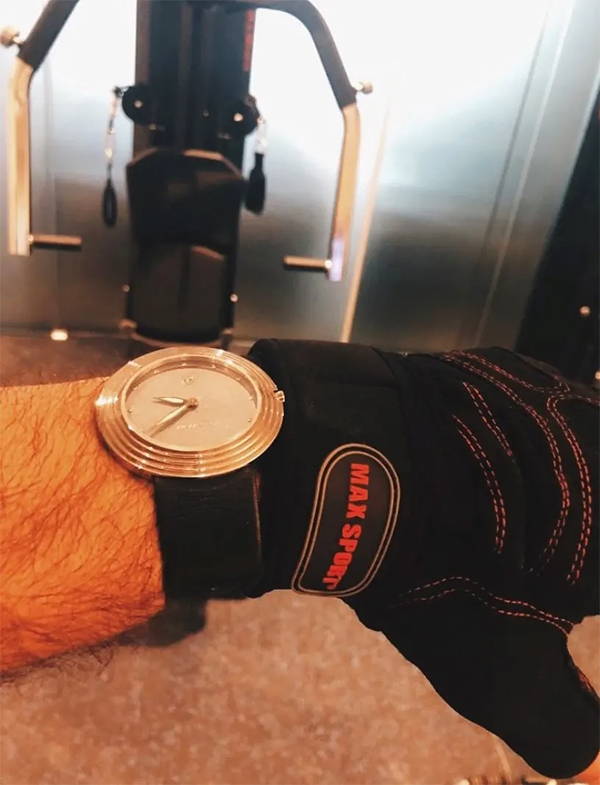 Moving onto The Rocketeer the biggest advantage here is obviously the interchangeable straps. 3 looks in one watch and it does completely transform the watch. I do think that this gives the Rocketeer its edge as the best travel watch. If you are flying somewhere for holiday or business packing light is key(those baggage fees I mean come on!!) and you don't want to be lugging around 3 watches in a case with automatic rotation so you don't mess up your power reserve schedule. This is where the Rocketeer comes in, and this is how I would go about it: Arrive at the airport for the flight with the silicone strap on because comfort is key when flying. Then stainless steel upon arriving and going about my day. Finally,leather strap for the dinner & drinks! BOOM all without having to unpack anything extra!
And the best part is you don't need a special tool or skill to do it! I timed myself doing it the other day and it was less than 30 seconds changing time. So…. The Rocketeer is a watch for those who like to keep life fresh and interesting and hate wearing the same watch day in and day out.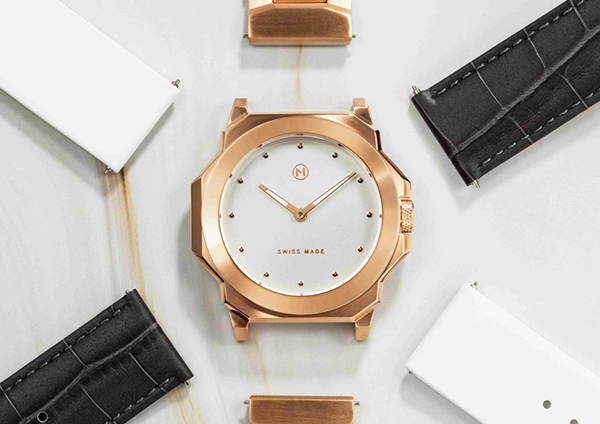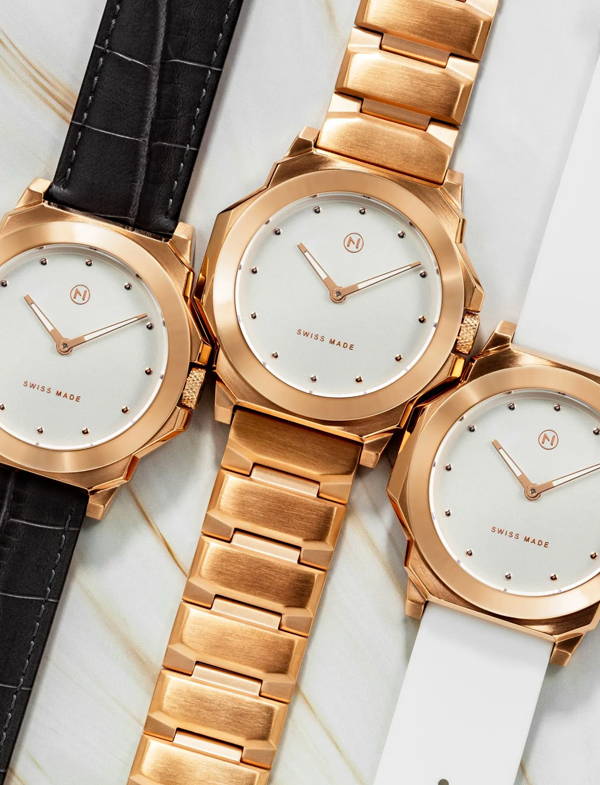 Trident time! This is a head turner! If you like people taking notice of what you have on and don't mind random people starting conversations with you after being in awe of your watch then this is the watch for you… I kid you not I have had 6 people ask me about my watch just this week. Being the World's Slimmest Diving watch will help with that and at 6.8mm in thickness people will ask about it!
Forget about all that though, its just a great watch and unique design I never get bored of. My personal favourite is the all black version as it has this tactical look that I really love and its not a traditional diving watch color.
The photo below is a commercial diver wearing the Trident, these guys don't mess around! Its not the typical scuba diving you're thinking of, no! These guys risk their lives with dark and deep dives. Its nice to see that the Trident is being used for its original intent, diving.So, if you are an adventurer that wants something different and unique – the trident is yours!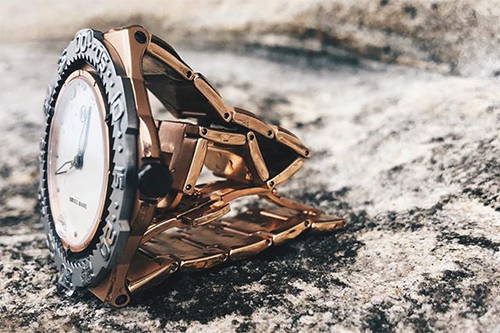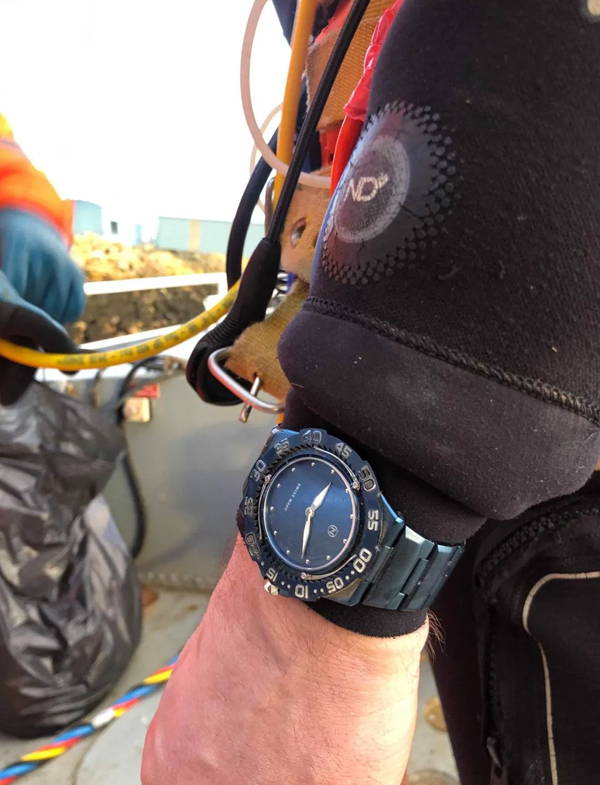 Finally, we have The Craftsman the name really does speak for itself, the craftsmanship and detail in this watch is what makes it special, from the handpicked ebony wood to the 60 individual hand polished components, I honestly consider it a piece of art not a watch. I just can't help but to stop and stare at all it's beautiful details. Even something so simple like changing the time feels like something straight out of NASA… and I love that! If you can appreciate the wood interior in a 1970's Roll Royce the Craftsman is your watch.
The Craftsman makes me appreciate the finer things in life. Every time I wear it I can't help but take it off and show it to my friends, explaining the case back is one of my favorite things to do and wearing it makes you feel proud of the engineering and design behind this wearable art piece.So, if you can appreciate a Picasso – let me introduce you to the Craftsman.